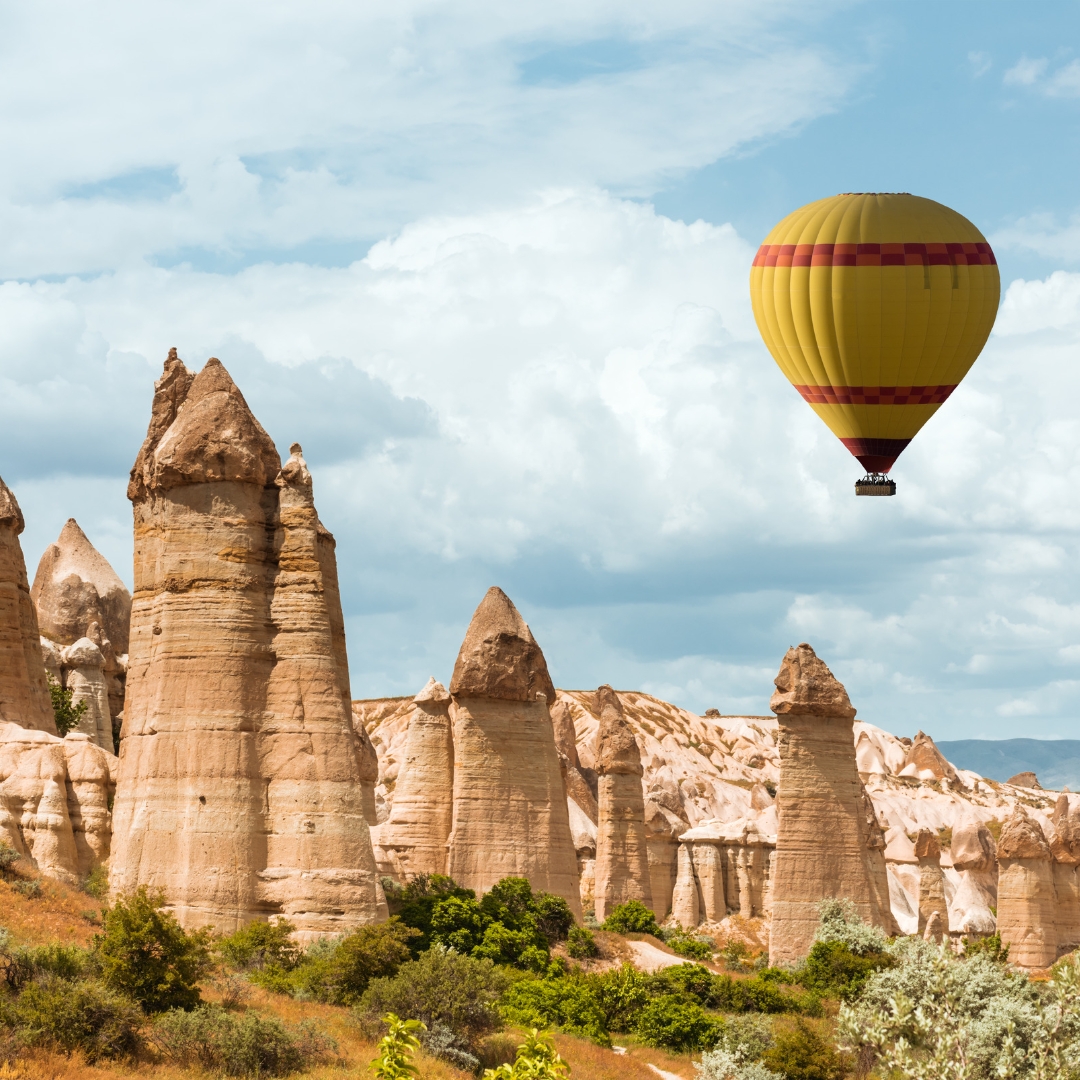 Red Cappadocia Tour
"Experience the beauty of Cappadocia with our professional Red Cappadocia Tour. Book now and make your trip unforgettable."
Discover the magic of Cappadocia Red Tour!
Embark on a journey through time as you explore the ancient caves and rock formations that make this region so unique. Our expert guides will take you to the most breathtaking spots, including the famous Fairy Chimneys and the Goreme Open Air Museum.
Experience the thrill of riding in a hot air balloon over the stunning landscape, and indulge in delicious local cuisine at a traditional Turkish restaurant.
Don't miss out on this unforgettable adventure! Book your Cappadocia Red Tour today and create memories that will last a lifetime.
Itinerary
We will begin our tour by picking you up from your hotel and driving to Devrent Valley, where you can witness a variety of rock formations and small fairy chimneys that create a lunar-like landscape with their peculiar appearance. After a brief walk in this stunning valley, we will proceed to Pasabagi (Monk's Valley), home to the most remarkable fairy chimneys in Cappadocia with twin and triple rock caps. These shapes are distinctively unique to Cappadocia and are referred to as "mushroom-shaped fairy chimneys." Following our visit to Pasabagi, we will make our way to Avanos, renowned for its pottery craft that dates back to the Hittite period.
The red clay used in pottery-making comes from the Kizilirmak River, the longest river in Turkey. In one of the pottery shops, you can observe a pottery-making demonstration or even try your hand at it. We will take a break for lunch at a local restaurant, where you can savor a variety of Turkish cuisine. After lunch, we will head to the Goreme Open Air Museum.
The highlights of the day will be the churches, chapels, and monasteries carved into the fairy chimneys from the 10th to 13th centuries A.D., adorned with frescoes painted on the walls. You can capture these moments with your camera to cherish them as future memories. At the end of the tour, we will drop you off at your hotel.
Highlights:
Devrent Valley: This valley is known for its differently shaped rock formations and it's told that its surface is similar to the moon. If you are looking for something different and natural you must see this valley with your own eyes.
Pasabag: A valley covered with conical rock formations that are mostly carved as shelters by monks centuries ago. This is a place where nature and history get together.
Avanos: A district connected to Nevsehir and standing still since the period of Hittite. It was known as Vanessa, Zuwinasa, or Ouenasa in ancient times and it's been a center of pottery for centuries. If you want to do pottery shopping this is a place where you can take a look.
Goreme Open Air Museum: An ancient church that is carved from volcanic rocks and covered with frescos from the medieval age. This place has its wonderful ambiance full of its own energy that feels alive.
Esentepe Wish Hill: Wish Hill has thought a holy place in the ancient era due to its height and symbolizing of Bing close to God. Since the ancient era, his place is used for many different purposes such as security, worship, and a bunch of other reasons. With its own ambiance and height, it has its own powerful charm that is a must-see.
Uchisar Rock Castle: From the outside, you'll have a chance to see this wonderful castle which is occurred by natural steep rocks in time.
Lunch: Will be served at a local restaurant. (vegetarian food is also available.)
Includes
Pick-Up & Drop Hotel
Professional Tourist Guide
Entrance Fee
Lunch ( Set Menu)
Other Popular Tours
You May Also Like